Chapter 13 Bankruptcy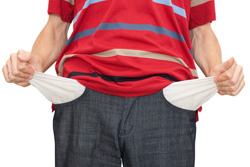 If you are being harassed by creditor and feel overwhelmed by debt, filing Chapter 13 bankruptcy can relieve some of your stress by allowing you to reorganize your debt in order to repay lenders. Perhaps the biggest advantage to filing bankruptcy is that the court will issue an immediate automatic stay, prohibiting creditors from contacting you in order to collect money outside of the legal proceedings.

While there are several types of bankruptcy, Chapter 7 and Chapter 13 are usually utilized by private individuals. Chapter 13 is designed for individuals with a regular income who are able to pay off their debt. While Chapter 7 requires liquidating your non-exempt property in order to repay creditors, Chapter 13 allows you to keep your property while paying off creditors over a period of three to five years.

To begin the bankruptcy process, you must first file a Chapter 13 petition with the court. Once the petition is received, the court will invoke an automatic stay and send a notice to all of the creditors listed in your petition. A trustee will then be appointed to your case, and a date will be set for a meeting with your creditors. You will also be required to submit g documentation listing your assets, income, expenses, and debts within 15 days after your case commences.

The court-appointed trustee will look over your documents and meet with your creditors to determine your repayment structure. While your repayment plan is in effect, you will be required to keep current on all payments and make monthly payments toward balances that are past due. The court will prioritize your debt to ensure that secured creditors are paid first. If all payments are made according to the reorganization plan, any unsecured debt that remains can be discharged.

Please note that any person who wishes to file bankruptcy must complete an approved credit counseling course before submitting his or her petition--any petitions filed without a credit counseling certificate can be denied. A bankruptcy lawyer in your area can help you find a court-approved course.